The collaboration between nurses and the Center for Surgical Science began in June 2017 in the surgical department of the Zealand University Hospital. The interdisciplinary research brings synergy into the project team, and mixed methods ensure that the research questions are elucidated from multiple angles.
The patient's experience since their arrival to the Department of Surgery has a central place when designing new examinations. The Person Center Practice will be the focal point of upcoming projects. Person Centered Practice is a conceptual framework that can be used interdisciplinarily and has the patient as a partner in planning treatment courses.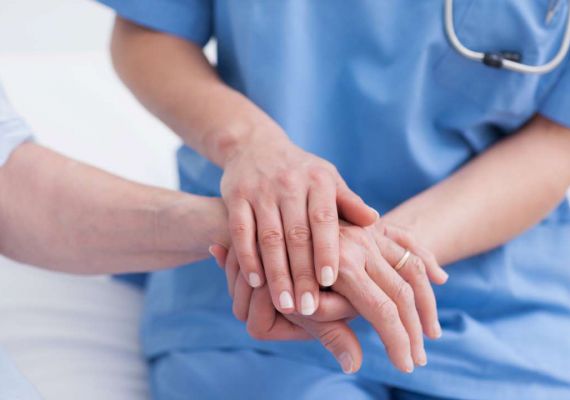 Sleep before and after surgery
Principal investigators: Marian Christin Petersen
A sleep project examining the development of Insomnia after hospitalization and surgery at the Department of Surgery is entering its second phase containing focus group interview. Data from a survey that is the first part of the survey is currently being analyzed. The relationship between the patient and the therapist is crucial to clarifying the individual patient's needs. A summary of the two methods is expected to be completed by the beginning of 2020 and will determine what information and measures in relation to sleep and rest will in future be given to patients in the Department of Surgery.
COVID-19 frontline experiences – A collaborative person-centred study investigating healthcare professionals', managers' and researchers' experiences, attitudes and perspectives on being in the frontline during COVID-19
Principal investigator: Marian Christin Petersen, Mette Kjerholt and Bibi Hølge-Hazelton.
Healthcare systems worldwide are currently facing major challenges due to the global spread of coronavirus (COVID-19). It is expected that the pandemic may hit Denmark in several waves within the next year and healthcare systems have to be prepared for these waves.
Evidently, the COVID-19 situation has a major impact on different levels of the healthcare system. Therefore, the overall objective of this study is to generate new knowledge on how to understand, support and empower healthcare professionals, managers and clinical researchers who work in the frontline. This will be done by describing their experiences, perceptions and attitudes when working at the COVID-19 frontline; and by producing knowledge that can reduce negative consequences as well as implement facilitators in future clinical frontline practices.
Physical activity in long-term colorectal cancer survivors with a stoma
Principal investigator: Marianne Krogsgaard
Physical activity (PA) is positively associated with better immune function and is likely to improve long-term benefits after colorectal cancer surgery. However, PA levels in patients living with a long-term stoma are not well-established. In this secondary exploratory analysis of data from a cross-sectional study we aim to investigate physical activity behavior and variables associated with lower levels of physical activity in long-term cancer survivors. The study findings may identify characteristics of patients that could benefit from counseling and advice in order to improve everyday physical activity.
Stoma management and problems in long-term stoma patients across five European countries – a cross sectional study
Principal investigator: Marianne Krogsgaard
The impact of a stoma on peoples lives differ across European countries. Quality of life has been shown to be more impacted in southern Europe when compared to northern and middle Europeans. However, we have little comparative knowledge on stoma management and stoma related symptoms across countries shedding light to the actual situation for patients with a long-term stoma. Thus, in this secondary analysis of data from a large European cross-sectional study on colorectal cancer patients we aim to investigate and compare stoma management and stoma-related problems in colostomies with and without a parastomal bulge across 5 European countries.