Samarbejdet mellem sygeplejersker og Center for kirurgisk videnskab begyndte i juni 2017 på kirurgisk afdeling på det sjællandske universitetshospital. Den tværfaglige forskning bringer synergi ind i projektgruppen, og blandede metoder sikrer, at forskningsspørgsmålene bliver belyst fra flere vinkler.
Patientens oplevelse af mødet med Kirurgisk Afdeling har en central placering ved udformning af nye undersøgelser. Person Centeret Praksis vil være omdrejningspunkt i kommende projekter. Person Centreret Praksis er en begrebsramme som kan anvendes tværfagligt og som har patienten som medspiller i planlægning af behandlingsforløb.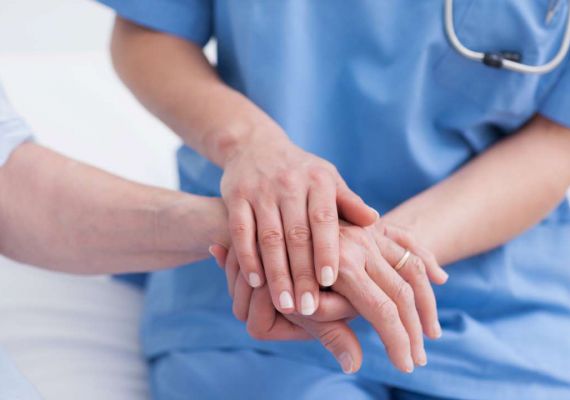 Sleep before and after surgery
Principal investigators: Marian Christin Petersen
Et søvnprojekt, der undersøger udvikling af Insomni efter indlæggelse og operation på Kirurgisk Afdeling, går ind i sin anden fase indeholdende fokusgruppeinterview. Data fra et survey, der er første del af undersøgelsen, analyseres for øjeblikket. Relationen mellem patient og behandler har en afgørende betydning for at klarlægge den enkelte patients behov. En sammenfatning af de to metoder forventes færdig i starten af 2020 og vil afgøre hvilke informationer og tiltag i forhold til søvn og hvile, der fremover skal gives patienter i Kirurgisk Afdeling.
COVID-19 frontline experiences – A collaborative person-centred study investigating healthcare professionals', managers' and researchers' experiences, attitudes and perspectives on being in the frontline during COVID-19
Principal investigator: Marian Christin Petersen, Mette Kjerholt and Bibi Hølge-Hazelton.
Healthcare systems worldwide are currently facing major challenges due to the global spread of coronavirus (COVID-19). It is expected that the pandemic may hit Denmark in several waves within the next year and healthcare systems have to be prepared for these waves.
Evidently, the COVID-19 situation has a major impact on different levels of the healthcare system. Therefore, the overall objective of this study is to generate new knowledge on how to understand, support and empower healthcare professionals, managers and clinical researchers who work in the frontline. This will be done by describing their experiences, perceptions and attitudes when working at the COVID-19 frontline; and by producing knowledge that can reduce negative consequences as well as implement facilitators in future clinical frontline practices.
Physical activity in long-term colorectal cancer survivors with a stoma
Principal investigator: Marianne Krogsgaard
Physical activity (PA) is positively associated with better immune function and is likely to improve long-term benefits after colorectal cancer surgery. However, PA levels in patients living with a long-term stoma are not well-established. In this secondary exploratory analysis of data from a cross-sectional study we aim to investigate physical activity behavior and variables associated with lower levels of physical activity in long-term cancer survivors. The study findings may identify characteristics of patients that could benefit from counseling and advice in order to improve everyday physical activity.
Stoma management and problems in long-term stoma patients across five European countries – a cross sectional study
Principal investigator: Marianne Krogsgaard
The impact of a stoma on peoples lives differ across European countries. Quality of life has been shown to be more impacted in southern Europe when compared to northern and middle Europeans. However, we have little comparative knowledge on stoma management and stoma related symptoms across countries shedding light to the actual situation for patients with a long-term stoma. Thus, in this secondary analysis of data from a large European cross-sectional study on colorectal cancer patients we aim to investigate and compare stoma management and stoma-related problems in colostomies with and without a parastomal bulge across 5 European countries.